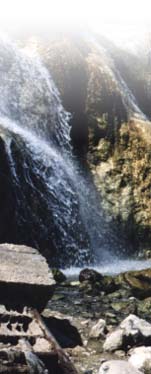 Travelling Can Be Hazardous to Your Health
Day 6, June 19 1998, Hammamat Ma'in

Morning, same old stuff, shower, breakfast. We took our leave of Sophey and his delicious fruit mixes. Has our picture taken with him and we promised to send him a copy.

We packed a cool four bottles of water and set out for the Raganagh bus station to catch a bus to Madaba, from where we wanted to take a bus to Hammamat Ma'in, where the hot springs are, and then on to Karak. Upon our arrival at Madaba bus station, we could again rejoice in the never-abiding attention of taxi drivers, who were interested in taking us, but not for less than 40 JD ($ 51.20). Determined not to be ripped off, I remonstrated. As a result, more taxi drivers gathered around us. So much even, that the police drove by and told us that we could also take a bus, which we did. This also meant that we had to change buses later, and there was an insecurity about the route the bus would take since today was a holiday.

When we got off the first bus, a taxi driver appeared to have followed us from the bus station). He made us an unprecedented offer of 8 JD ($ 10.24) (I had got it down to 15 JD in Madaba already). We accepted and again we had our private driver for the day. Achmed's taxi, an ancient Lada, was quite possibly in the worst condition I've ever seen a car in. The speedometer didn't work, no matter how fast we drove, and the gear had to be enclosed by a wet towel. Also, the shifting of gears produced the strangest sounds I've ever heard a car make. At one point, I asked if it was possible to open the passenger window. He leaned over and dislodged a fairly rusty screwdriver which was wedged in between the frame and the window glass. The entire glass window fell into the door with a loud clang. I did manage a 'thank you'. Achmed was really nice guy, though, and the springs, though hot, were very refreshing.

Back at Madaba, we got on the bus back to Amman, as there was no direct connection to Karak. From Amman, we could take the JETT bus to Karak. However, as soon as we arrived, a great depression came upon us;

When we got to the JETT bus, someone told us it was only for Jordanian students. We were pissed off at this. I told Dennis that I'd rather go back to the Cliff than wait for the regular JETT. Dennis convinced me that going back to the hotel would be just as much hassle. So we waited. The queue for the bus grew. And grew. When the bus finally arrived, there were more human body cells present than could physically fit inside the bus. Now it was Dennis' turn to be depressed. With my last ounce of positive energy, I convinced him to come along. But alas, just as we had made up our minds once again, the baggage doors wouldn't open! No matter how I tugged, pried, pulled, pushed or kicked, they would not budge. All the while, the bus was filling rapidly.

At this point I, too, lost all hope and I yelled out: "Godver, typhus, tering, polio, jezus, vervelende griep, kut!" (an ancient Dutch mystical incantation of anger). I was quite upset. We decided to go back to the Cliff. We found a taxi who wanted to take us there … for 4 JD ($ 5.12). We countered this offer with 1 JD, and negotiations began. Pissed as we were, we were going to make pretty damn sure we would not pay these guys even 100 fils too much. After some discussion he went as low as to 2.5 JD ($ 3.20). However, since we were in a really bad mood, we gestured that we really wanted to check out the other taxis. This was the cause of much consternation among their ranks (for their number had swelled) and our final offer was swiftly accepted.

Once we reached the city centre, it became clear that the driver had absolutely no idea where the Cliff was. Luckily, we were able to help him out.

In the evening we had dinner in a restaurant that Fuad had recommended to us, and it was very good. Quite cheap, and a much friendlier atmosphere than at the Al Qurt. There were long tables, where you would just sit with whoever was already seated, mostly locals. It was just a very friendly place to hang out.




c l i c k

The hot springs

More hot springs