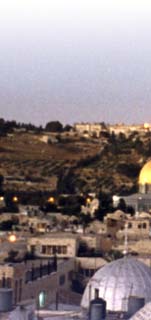 Travelling between Worlds
Day 1, June 14 1998, Jerusalem

This morning, at Schiphol Airport, we were questioned by two employees of El-Al. The company is sure to take every precaution for their flights. They are pretty scared of terrorists. It was thought very strange that we had no set travel plan. What on earth were we going to do? Probably because of the completely blank looks on our faces, we were finally allowed to board the plane.

On the plane I slept just a few hours. It wasn't so much the movie (Sphere) because that was just about as boring as flight movies get, but the constant motion. I always find it difficult to sleep during flight.

We landed in Tel Aviv. It was hot. It was sunny. We were numb from the flight and the lack of sleep. Nothing pre-arranged, so we decided to start planning our holiday right then and there. After some squabbling, Jerusalem was our next destination. To the buses!

On the bus from Tel Aviv heading for Jerusalem. Sitting next to an Israeli soldier, probably just a few years younger than I am. He's reading a book - with a half-automatic weapon placed awkwardly on his lap. In Holland, soldiers walking the streets are not an everyday sight.
I guess you don't really feel like you're in a different country until uniformed boys wander the streets with guns slung across their backs.

The bus stops, and the drivers tells us something in Hebrew. What? The uniformed boy tells us the bus is overheating and if we would be so kind as to change buses. No problem.

It's about the end of the afternoon as we check in at the Petra hotel, the roof of which is to be our place of resting for the night (see pictures right). A passing Dane kindly informed me that the sun rises at 5.30 in the morning. Better find a shady place to sleep. For now, I think I should have a small nap in advance.

Whoops! Well, that was about 3 hours worth of sleep. I had the strangest dream, which I sadly cannot recall, but when I woke up suddenly a black-and-white TV set had been placed before me. I looked sleepily at the TV, then at Dennis, who was reading a book, and then at the TV again, before saying to Dennis: "Is Voyager on tonight?". We are both relatively enthusiastic Star Trek fans, you see.

Before my exciting adventures in the land of sleep, we managed to get lost in Jerusalem Old City. You wouldn't believe how crooked and mazy these streets are! A map would not have been a bad idea.
We were approached by a salesman who was almost successful at selling Dennis a silver bracelet. The salesman was a very persistent fellow, but Dennis was definitely not interested. Before the salesman finally understood, the price had dropped from 100 to 6 shekel.

We had Roast Chicken at a restaurant near the hotel (we were the only guests there). During our meal, an woman clad in a rain coat and sandals came in. Her short grey hair was unkempt, as was her general appearance. She had a strong American accent.
She wanted to have a cup of tea, but apparently half-way the transaction something went utterly wrong. She began to call the staff names, and walked over to our table.
She tried to get a conversation going, but it turned out to be mostly a monologue, since I did not want to be drawn into some hazy conflict over a cup of tea. She appeared to be very emotional and impulsive and subject to sudden mood swings, but otherwise she was a nice person.

It was amazing how long she kept going without much response from our side, as she disclosed the details of her many life stories, whether they conflicted or not:
She told us how she was a doctor, how she had worked for six days straight, how she had a licence to practice in Palestine, why 6 shekel was really way too much for a cup of tea, how her daughter had gotten a yellow tooth from drinking too much Coca-Cola (our drug of choice), how she herself always drank champagne, how she had not worked as a doctor for twenty years, that we should really come over for a cup of tea to her place once, no really we should, but that we should never ring the bell and then call her by name, no, that wouldn't work, but if we said something to the effect of 'mail' or 'delivery', well that would work, and where we were from? Ah yes, very nice, and how did we call chicken in Dutch then?
I said to her, "Kip."




c l i c k

The train to Schiphol

Jerusalem at night

Our exclusive suite